29/11/2017 Beginning Prototyping and Fortnightly Blog Updates
After speaking with Mona about the PhD process, today I decided that it would be best to begin writing a fortnightly blog with a summary of what I have been up to so far. This will be useful to help me keep track of my professional development as well as give anyone viewing my webpage an idea of my development process, thoughts and the PhD lifestyle in general. I will be writing these post in an informal style to better communicate my feelings at the time of writing.
Since my last blog excerpt things have been progressing quite rapidly. After weeks of just pure information gathering and 'coding' I decided that it would be best to do what I enjoy most... making stuff. I found that it is quite easy to get lost down the rabbit hole of reading. One research paper will send you to another, and another, and soon enough you end up in an area that's far from where you began. Although this process is great fun, it can also be quite daunting. The wealth of information out there is both a blessing and a curse.
I intend to develop multiple prototypes in an effort to help support teenage cancer patients with the emotional, mental and physical struggles that arise when living with cancer. These prototypes will focus on separate ways to support the user with the potential for the best aspects to be used in developing one final videogame artifact.
To begin the development aspect of this PhD, I started working on a game concept in Twine for a pre-scripted messenger game similar to the Lifeline series. This game would act as a notification system to remind the user to take any medications at specific times of the day in a more 'human' way. The user would interact with a 'chatbot' that would attempt to relay useful information based on the player's responses. These responses could then be recorded to allow the user to gain an understanding of their overall mood and attitude towards medication.
Although this prototype remains in its infancy as of current, I believe that the concept still has potential for further exploration. To carry this concept on further I will be writing a first draft of a script and potential responses for the 'chatbot' based on user input. The intention was to create an application that acts as a friend who is going through a similar situation to the user. I fear however that this application could trigger the opposite effect, and after a while of engaging with the app could cause the user to feel even more isolated than before using it.
With You
(Title Pending)
The second prototype I have been working on is a 3D exploration game depicting the stories of multiple cancer patients on the ward. The game will use the ward as the 'Hub World' where the player can travel to different character's memories and see how living with cancer effected their day-to-day lives. This game will draw inspiration from documentaries in terms of structure and styling. The prototype is in early stages at current but I will detail the process so far:
Firstly, I started experimenting with 'whiteboxing' the ward environment using Unreal geometry and simple models exported from Maya.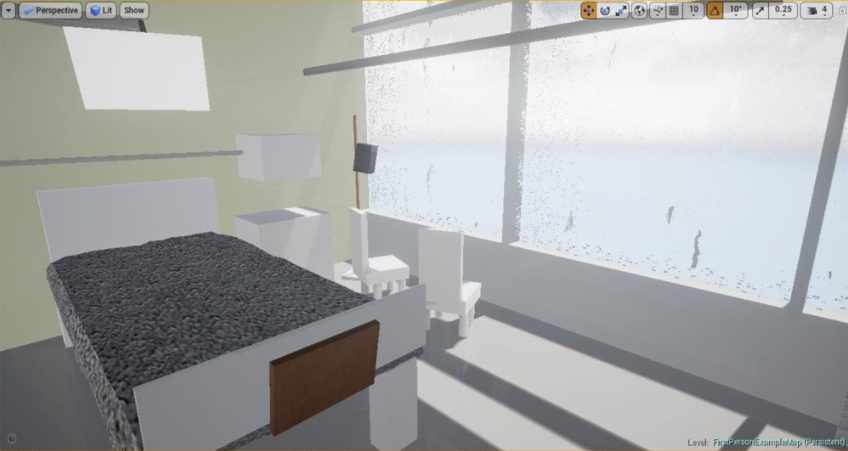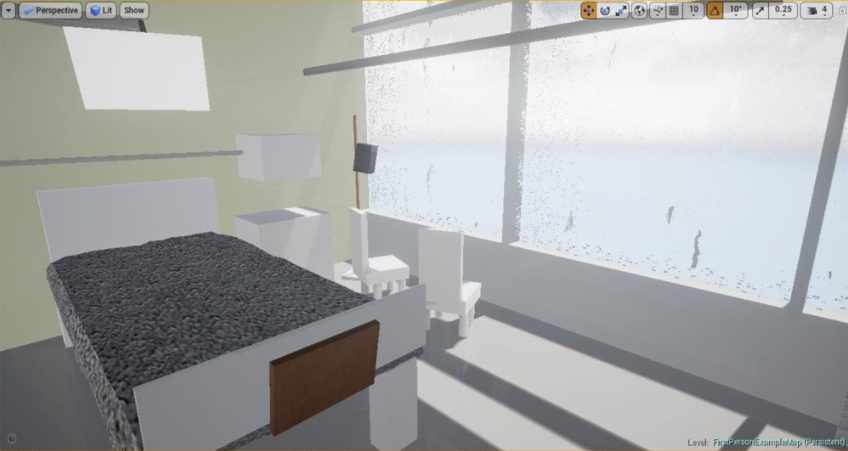 After creating a basic whitebox to get an idea of the scale and contents of the environment, I then low-poly modeled the contents of the room in Maya and replaced the whitebox contents.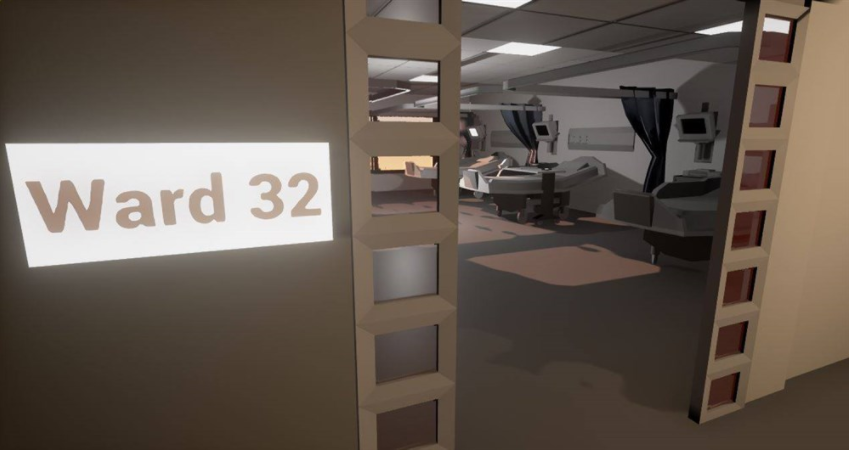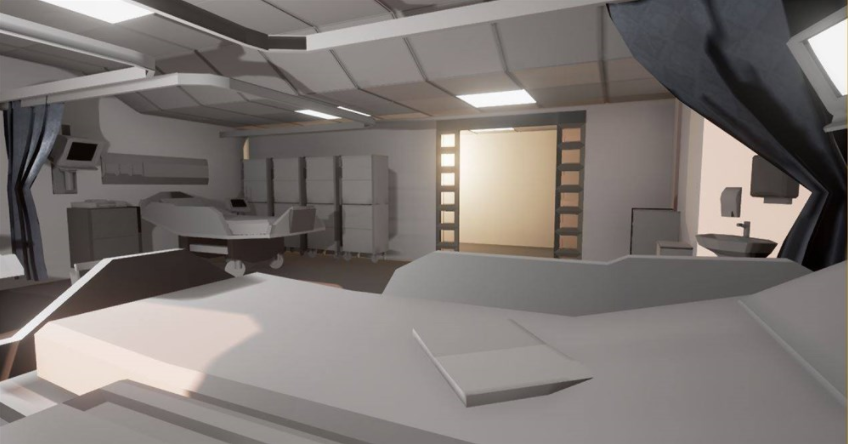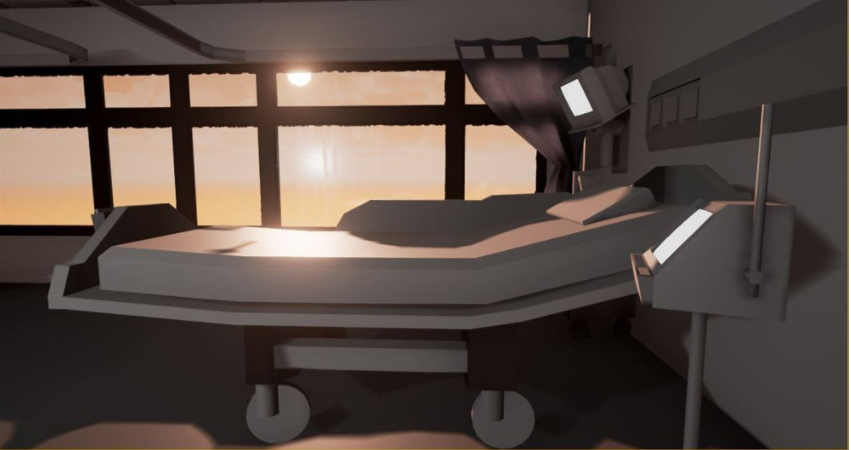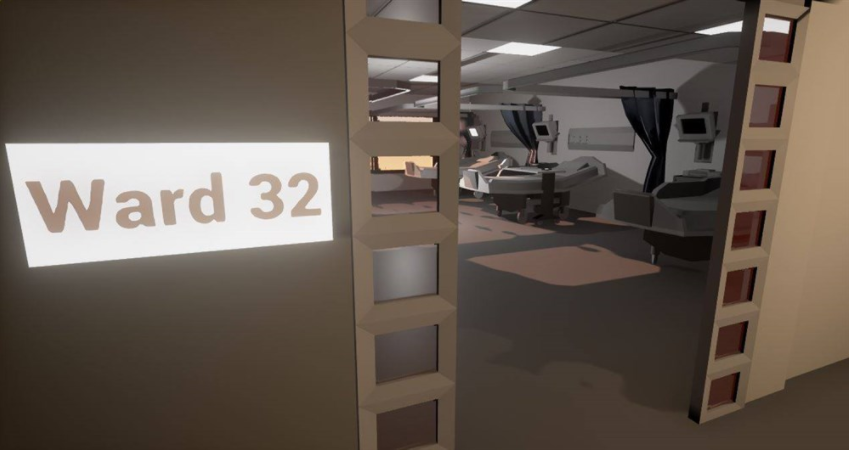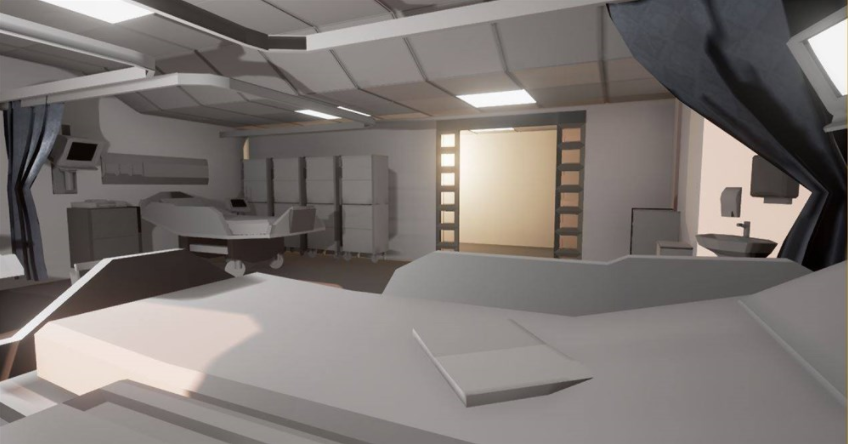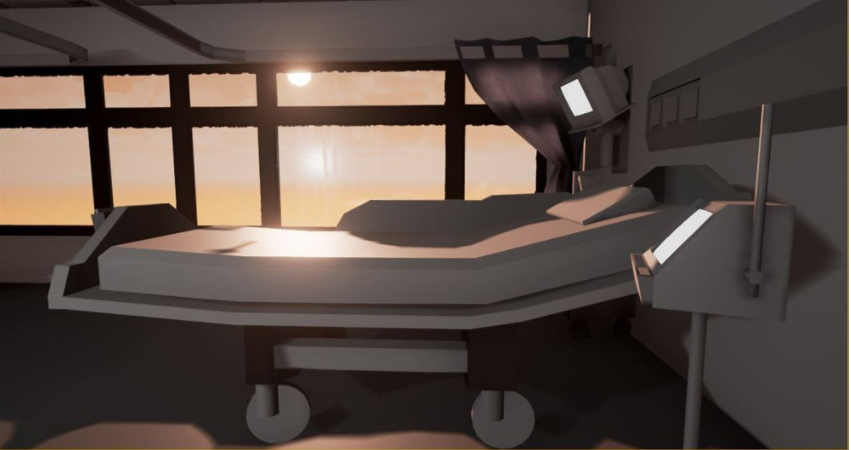 As stated earlier, I wanted to use the ward scene as a hub for transporting the player to other scenes. I decided that the next scene I would create was the player character's bedroom. Due to being early in the development cycle I decided to attempt creating an environment in a slightly different style. I dropped the polycount slightly and adopted a slightly more colourful palette.
Recently I have been working on adding the player controller, basic scene/ map swapping and an object "pick-up and interact" system. This has been my first proper experience learning Blueprint in Unreal Engine 4, as my prior visual scripting knowledge came from using Kismet in UDK. I have also made some visual tweaks to the bedroom scene including adding "Godrays" and editing the lighting slightly.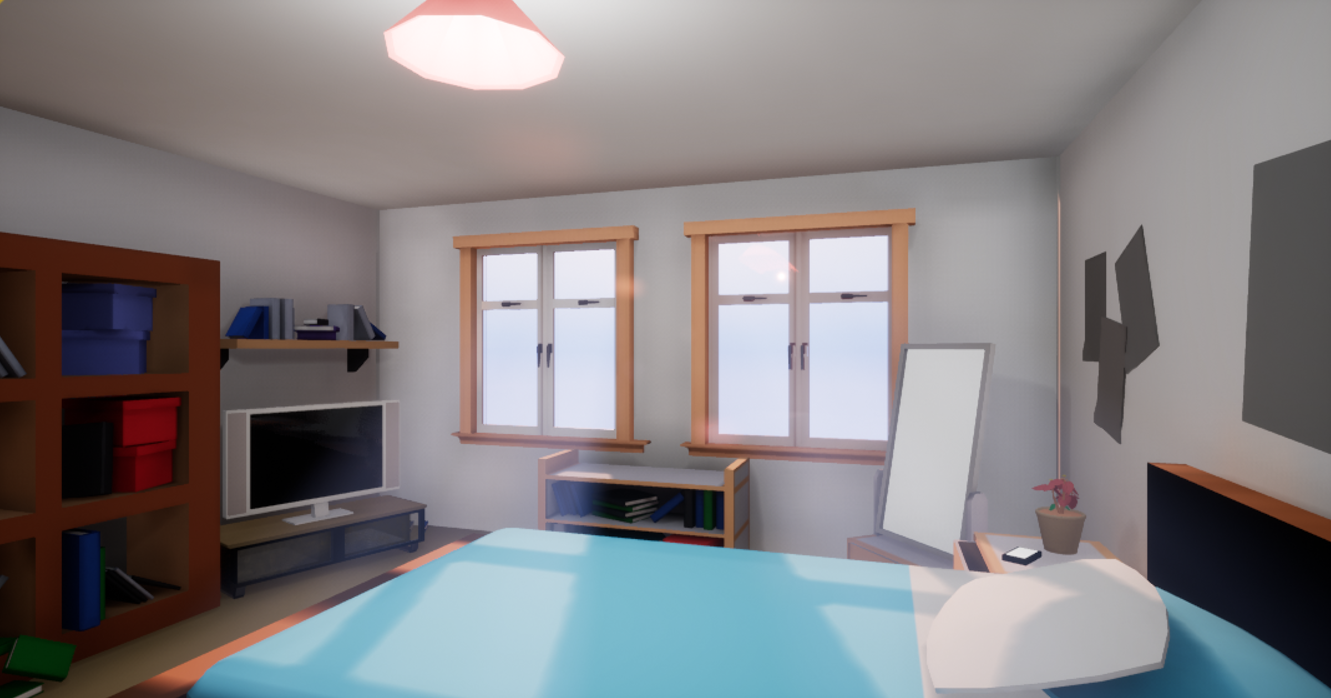 Narrative Play Design Project
Event Date: 24/11/2017
I received my workstation (MSI Stealth Pro). Unboxing the laptop felt like Christmas. Carefully unwrapping and laying the laptop out ready to power it on... only to find a massive line of dead pixels running down the center of the screen!
Thankfully after a quick chat with the finance department a replacement was ordered, which arrived in time for the Narrative Play Design Project hosted in Glasgow.
Myself, Dr Iain Donald, Robyn McMillan and Alice Bowman traveled down to Glasgow Caledonian University on the 24th November to meet with narrative game makers and others working in theater and screenplay writing. The event began with talks from educators, those in theater production and a guest talk from Jon McKellan of NoCode. We then split into small teams to develop small narrative-based game concepts and prototypes. I was also pleased to meet up with old course-mates Andrew Reid and Michael Saiger who had helped organise the event.
My team's prototype was a comical VR prototype set in an office where the player had to discover who had eaten their lunch by exploring the environment and rummaging through their colleagues possessions and personal emails. The idea was to take the typical office quarrels and controversies and exaggerate them. During the 2 hours of coming up with the games concept I quickly threw together a white-box environment for what the game may look like if we get time to take the idea further.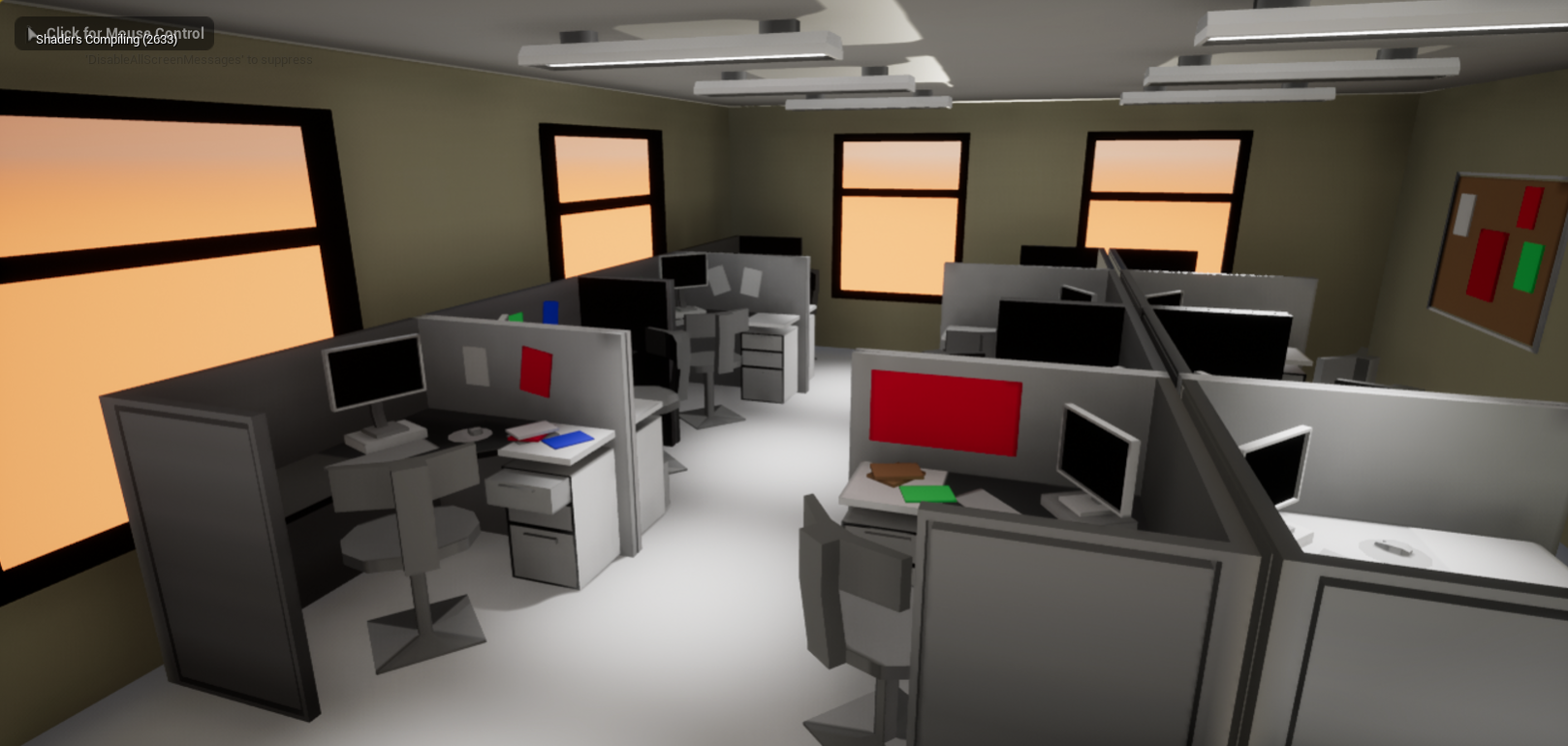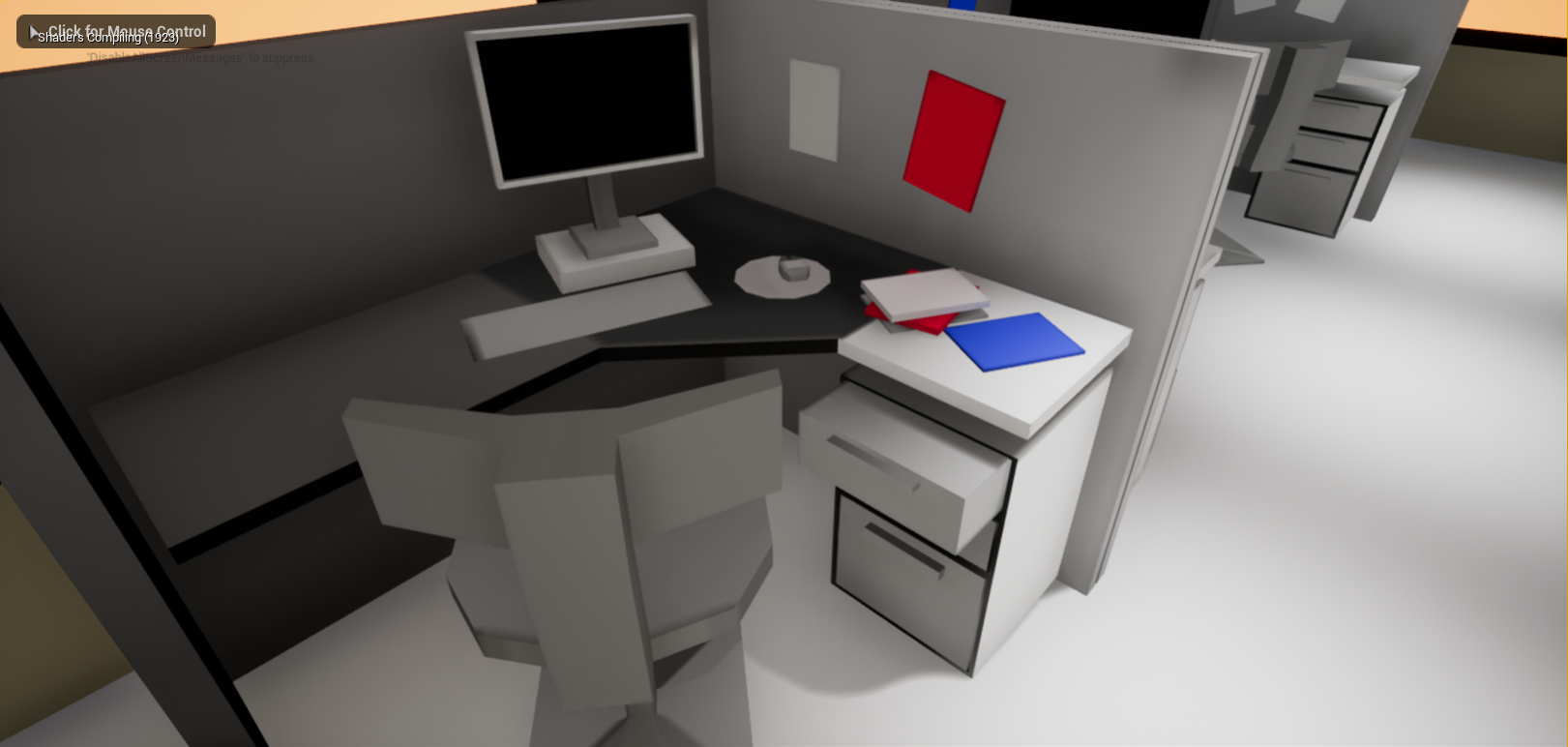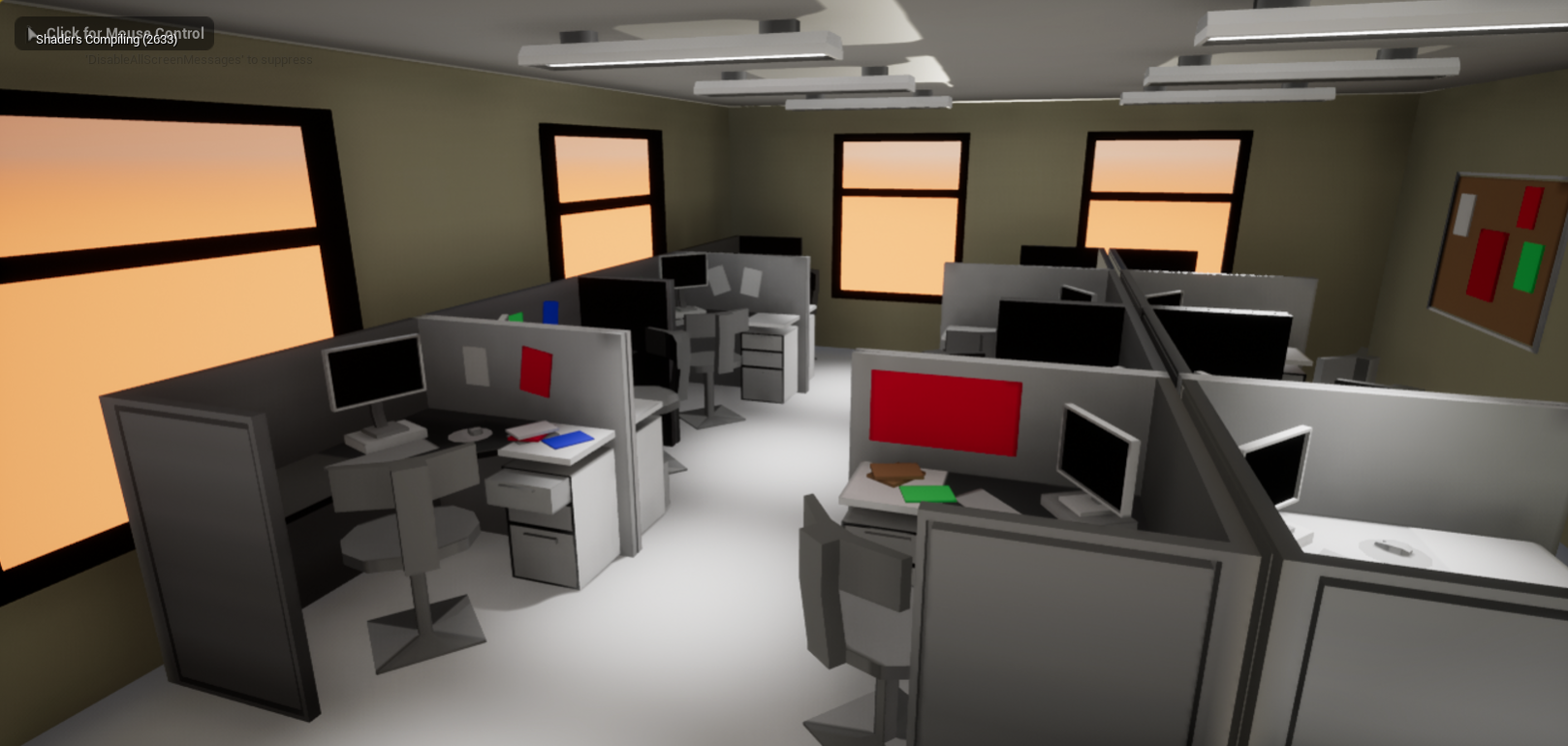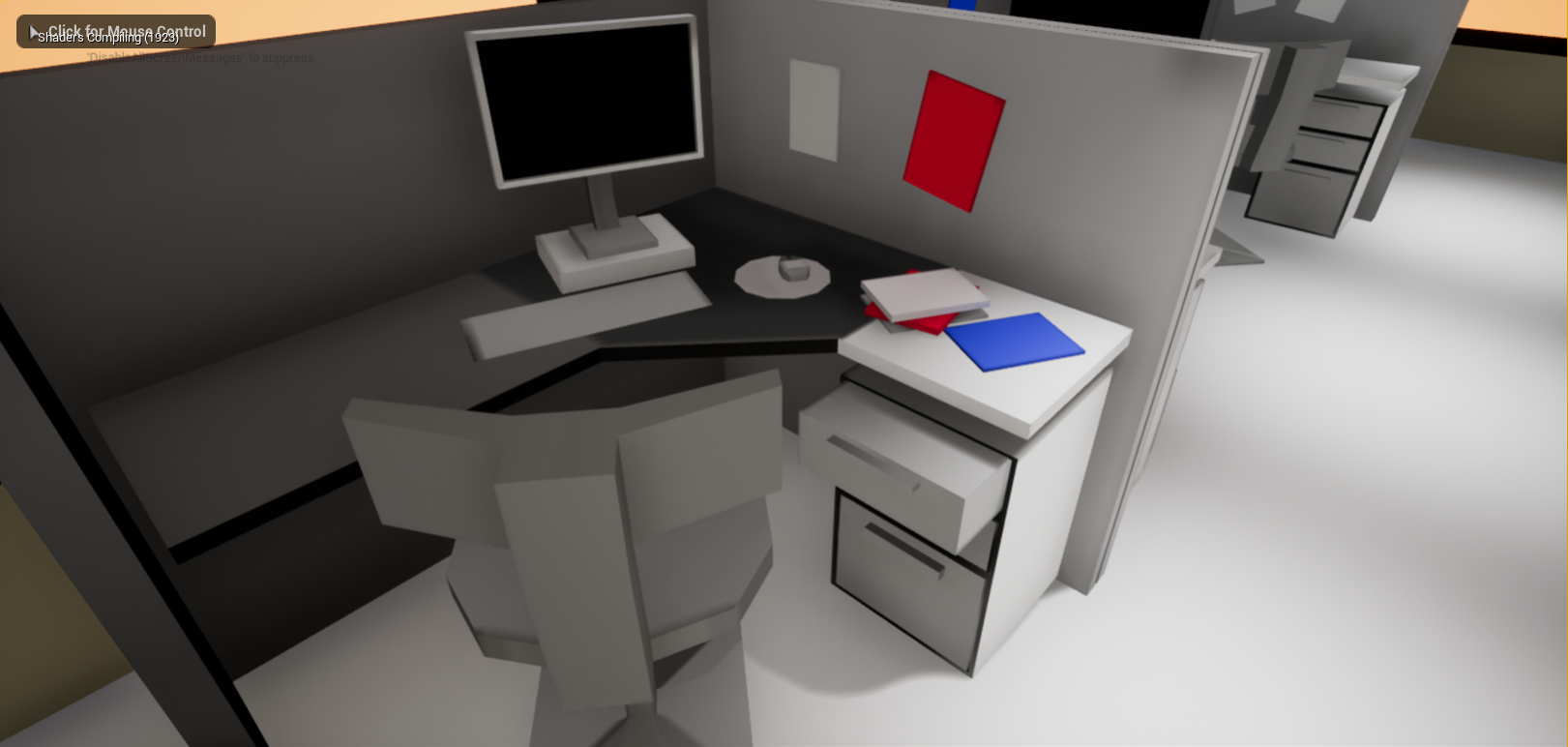 Although the start of this PhD process has been busy, I must admit I have felt somewhat directionless. The scope of the research project is so large and vague that it has been difficult to figure out where I wish to take it. I hope that with further time and development of prototypes and concepts that my research question will clarify itself more. I am grateful to have gained the opportunity to once more delve into the creative aspect of games development as my 2 years in QA, although useful and insightful, were not where I saw myself in the long term.